Fast Company: This buy-one-give-one for meals wants to take over the restaurant industry
https://www.fastcompany.com/90248414/this-buy-one-give-one-for-meals-wants-to-take-over-the-restaurant-industry
One Feeds Two USA donates a meal to a hungry child in the developing world for every purchase–and it's starting to get more and more restaurants on board.
Last week, a fast-causal, retro taqueria named Invicto opened in the Chicago suburb of Naperville. Its menu features items like crispy avocado tacos, steak cemitas, and grilled street corn. The spot is also the first of a small group of U.S. eateries to commit to One Feeds Two USA, a charity concept that promises to deliver a second meal to schoolchildren battling hunger in the developing world for each transaction.
Invicto cofounder and CEO David Sloan compares this to the buy-one, give-one concept of Toms Shoes. "When you're going to go out to eat anyways, you might as well visit restaurants that are also providing [charity] meals or doing some type of social good through their business," he says. "When you take a look at the entire industry, if we can do something the consumer understands and is easy for the restaurants to work into their margins, we can do a lot of good as an industry and feed a lot of people out there."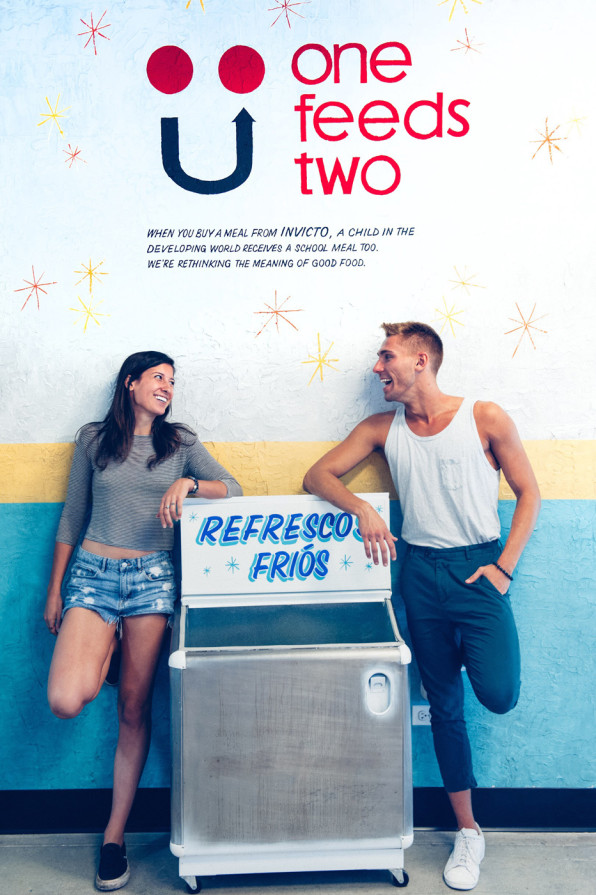 In fact, he's already thinking bigger. Sloan opened Invicto under the umbrella of his larger restaurant company Venture Kitchen, which will manage the U.S. branch of One Feeds Two directly. One Feeds Two originally started in the United Kingdom, where since 2011, the service has provided 3.7 million meals to those in need. Venture Kitchen now offers those nonprofit services free to any other food world player who wants to make a similar step, which Sloan hopes will include eateries beyond those he owns or manages, as well as food-related consumer-package goods and meal-kit offerings. The group has developed and deployed an array of catchy slogans to encourage that, including delivering "happier meals" and "rethinking the meaning of good food."
For now, Venture Kitchen is starting that process with its own franchises: It's opening a total of three Invictos around Chicago within the next six months. The group also manages another concept called Blackwood BBQ that is rebranding to promote One Feeds Two at three existing Chicago locations, and will do the same at another three restaurants that should open in the area later this year.
One Feeds Two started with JP Campbell, a former corporate lawyer who quit to start a soup truck named the Elephant Juice Food Company in Edinburgh, Scotland, only to realize that a lone business donating a meal for every one sold wasn't super impactful. At least 66 million children in the developing world go to school hungry each day, according to the charity's research. Another 61 million don't go at all, in part because they may be scrounging for food or needed in other ways to help their families.
Campbell then joined Virgin Unite, a Richard Branson-backed startup accelerator, and eventually added two cofounders: Mark Christophers, his mentor there, and Owen Burton, the former CEO of the Branson Centre of Entrepreneurship. Along the way, they renamed the charity effort something universal so that others could adopt it. The group now works with Cook, a frozen meal company, Byron, a burger chain, and Rola Wala, an Indian street food concept. (Some locations implement the program differently, offering the bonus on special menu items.)
Sloan learned about One Feeds Two while visiting a Rola Wala spot in London last year. At the time, he'd already grown and sold a major stake in his previous fast casual empire, Mediterranean-themed Naf Naf Grill, to Roark Capital, which owns Cinnabon, Jimmy Johns, Arby's, and Buffalo Wild Wings, and stepped back from daily management. Over several years, he and Venture Kitchen cofounder Franklin Wiener, who was Naf Naf's former COO, had grown Naf Naf into a popular spot throughout the Midwest and Northeast. They wanted to do the same thing for other concepts, but only if it was paired with something charitable, which they felt that previous rush-for-growth had lacked. (One Feeds Two USA includes another cofounder, prominent food and beverage industry attorney Patrick Wartan.)
Invicto is starting in the same shopping center as Naf Naf's original flagship. Like its U.K. affiliate, the U.S. nonprofit part of that business allows restaurants to act like philanthropic fundraisers. Rather than execute the cause work directly, it raises money for Mary's Meals, an organization that already works with schools in many severely impoverished places. For cost and efficiency, meals are often made in large batches and kept simple–a promotional video shows lots of rice and beans. For partnering One Feeds Two retailers, that makes the actual cost of donated meals much less than what customers pay: It averages out at just 12 cents per contribution.
Rather than try to sort out how many meals are rung up per transaction (or not, in the case of someone just buying a beer or soda) Venture Kitchen's participating spots simply donate 12 cents per tab. "Anytime you swipe in that card, no matter what it is for, we're providing a meal," Sloan says. "That's the way we thought that the consumer would understand."
He sees the low price to participate as its own selling point. "I hope every restaurant takes this up because if you can't work with that type of expense, then maybe you should look for a different profession," Sloan adds. "Honestly, I think every restaurant can afford to do this."
Between the promotions at Invicto and Blackwood BBQ, Venture Kitchen expects to deliver at least 1 million meals within the next year. It hopes to see that footprint grow at least ten times larger within the next several years as VK's chains add more locations throughout the U.S., and other participants sign on. "For most of [these kids] this is the only meal they're getting for the day," Sloan says. "But at least if they're getting it at school you know maybe they're staying there, they're getting educated, and we can break the chains of poverty through education."